I found this while looking for other TT related things.. Its the old 5.48 map i used when I played on the server. Oh the memories. It is printed on separate sheets of card (a programme did the work not me) and then you just print the separate sheets and join them together.
Yes its on the wall as all the family played the game as well... I have an image of me playing TT on a projector...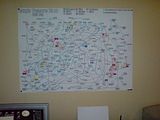 Found it...
Remember these images are old..
Rags